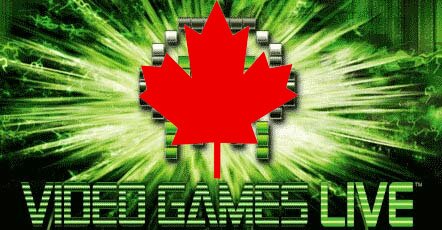 Those living in the Great White North and have an appreciation for games music will be excited to know that the world-renowned orchestral tour, Video Games Live, will be making the rounds. According to a recent press release presented by Joystiq, Canadians should be marking the following dates on their Google Calendars:
October 25 Toronto, ON Massey Hall
October 26 Montreal, QC Bell Centre
October 28 Kitchener, ON Centre In The Square
October 29 Ottawa, ON National Arts Centre
October 31 Winnipeg, MB Centennial Concert Hall
November 1 Saskatoon, SK TCU Place – Sid Buckwold Theatre
November 2 Regina, SK Conexus Arts Centre
November 3 Calgary, AB Southern Alberta Jubilee Auditorium
November 4 Edmonton, AB Northern Alberta Jubilee Auditorium
November 6 Vancouver, BC Orpheum Theatre
To help sweeten the deal a little more, a live interactive press conference will be streaming via www.twitchtv.com/videogameslive on Wednesday April 25th at 9pm EST. The show will be hosted by the tour's organisers and will include announcements regarding other details and negotiating show set lists.
Tickets go on sale starting Friday April 27th at 9pm ET, however Montreal's performance tickets begin the following day. Here's hoping we can see some similar treatment with a few more shows in Australia, too!