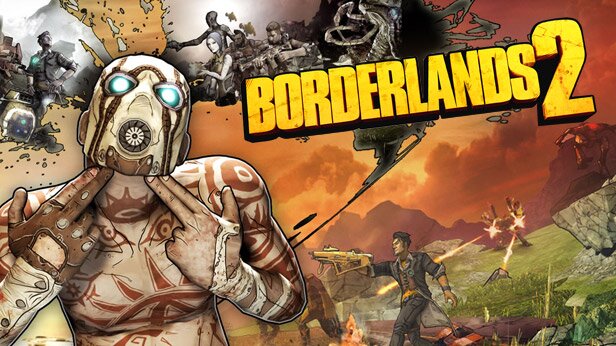 The first Borderlands was a surprise hit for Gearbox Software, and after three years of development, the sequel was one of the most anticipated games of 2012. Wanting to avoid the sophomore slump, Gearbox was careful with its baby, making small improvements without significantly changing what made the original so special.
This mantra also stayed true for the game's soundtrack. Like the game itself, the Borderlands 2 soundtrack does not disappoint. The direction and tone of the first soundtrack has been expanded upon and explored more deeply in the sequel, as composers Jesper Kyd, Cris Velasco, Sascha Dikiciyan and Raison Varner continue to outdo themselves. The soundtrack is a thrilling ride from beginning to end, featuring a stylized mix of Wild West instrumentation, wobbling electronic beats and some fierce, aggressive percussion thrown in for good measure. When 2012 is over, the Borderlands 2 soundtrack will stand out as one of the year's best.
Jumping right in to the first track with "Dam Top," you'll get a clear idea of how special the music is –
While the title might be misleading and plain, "Dam Top" by Jesper Kyd has an infectious crunch to it, and is a perfect blend of organized chaos. It starts off a bit slow but slowly builds up to the main hook of the song. The guitar lick has a down 'n' dirty feel to it, and the plodding industrial beat is just right for shootin' dudes in the face. This one is a personal favorite of mine, and I found myself repeatedly playing this section of the game just to hear the music. If you've ever seen the movie Waterworld, this track reminds me of the Smokers and their greasy, rusted vehicles.
"Hyperion"
http://www.youtube.com/watch?v=TMWU4dWUFLk
Composed by Sascha Dikiciyan and Cris Velasco, "Hyperion" is a pounding track of electronic beats and sounds. Similar in many ways to what a Nine Inch Nails song might sound like, "Hyperion" carves its own identity thanks the electronic percussion that pounds its way into your memory. It's three and a half minutes of fury, which is appropriate given Hyperion is one of larger weapons manufacturers in the game. I can't stress how much better this track sounds when cranked up to max volume.
"Lynchwood"
http://www.youtube.com/watch?v=XyqaU4bKUKw
"Lynchwood" is another fantastic track composed again by the dynamic duo of Dikiciyan and Velasco. The dusty-sounding guitar twang during the intro might have you think you're playing Red Dead Redemption, but that quickly fades around 1:40 mark. A slow build up of percussion ensues, erupting at 2:30 in an explosion of some of the most aggressive percussion I've heard in a video game. Even still, "Lynchwood" never loses its Wild West-vibe, featuring underlying hints of the western genre beneath the heavy percussion. Listen closely and you hear cues and hooks appropriate for the time period throughout this track.
"Bandit Slaughter"
http://www.youtube.com/watch?v=CU0IL-G9F_c
The Daft Punk is strong with this one. With a decidedly upbeat and electronic sound to it, "Bandit Slaughter" stands out quite a bit from the rest of the soundtrack. It's a surprisingly great song to have a gunfight to, which you'll learn quickly upon discovering Fink's Slaughterhouse. It's disheartening to see this is Raison Varner's only composition on the soundtrack, but he was probably busy designing the audio for the rest of the game (and its 87 bazillion guns).
The Borderlands 2 soundtrack is available through a variety of online digital outlets: Amazon MP3, Sumthing Else Musicworks, and iTunes. At 23 tracks total, it is more than worth your money, and, alternatively, makes for great driving music.