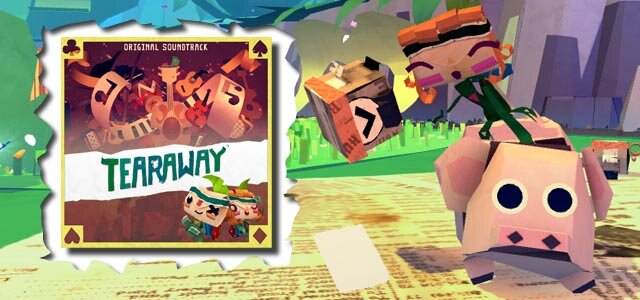 It took a while, but the soundtrack to Media Molecule's Playstation Vita favorite, Tearaway, is finally here. Of course, you'd be inclined to ask yourself if it's worth the $7.99 price point. Well, unless your ears are broken, I don't know why that'd be a question at all. Whether you've played the game or not, this is a pretty happening soundtrack, definitely worth the purchase.
Like any other Media Molecule game, Kenneth Young is featured prominently here, and this time, he's chosen to pair up with the worldly Brian D'Oliveira of Papo & Yo fame. Much like any other popular composer pairings, such as Sascha Dikiciyan and Cris Velasco or Martin O'Donnell and Michael Salvatori, these two mesh well together, creating one unified voice for Tearaway instead of a very clearly divided soundtrack like we experienced for Assassin's Creed: Revelations.
The songs presented here create a fun and funky adventure that fits the developer, but I'd dare say there's a touch more soul going on here compared to what you'd find in Little Big Planet. Take the "Gibbet Hill" triptych, for example: "Lament & Hornpipe," "Pilgrimage," "Processional." Through an infectiously charming utilization of pipes and strings, a compelling story has been crafted.
In "Lament & Hornpipe," it's easy to become sucked into the emotional tale the instruments are trying to tell over a flickering fire. But once you're listening, it morphs into a jig, bringing you along for the adventure told through the electronic stylings of "Pilgrimage" and the mournful melodies of "Processional."
Even the aspects of Tearaway that are less adventurous, such as utilizing the game's decoration tools, are given careful attention. The aptly named "Decoration" is a charming tune that brings together a ukele, a xylophone, some clapping hands, and the occasional sound of paper tearing. The effect is one of elation, and you could easily find yourself bobbing your head back and forth when it creeps up on your MP3 player.
My absolute favorite track on here has got to be "Between the Pages, Page One," which is a luscious pseudo-electronic track that blends that massively impressive array of instruments with DJ edits and mixing to weave a solemn trip-hop environment. I easily find myself lost in its ambient samples blaring in the background as a lumbering bass-driven beat plods its way through the hypnotic track. It's a sexy song, independent of the game it comes from. And if you tire of that, "Page Two" raises the tempo so you can bounce around the room.
Other notable tracks include the ambient "Beginnings," the slightly foreboding "The Orchards," the brash and irreverent "The Barn," and silly but slightly sad "The Message." It's not hard to find a song worth loving that doesn't also sound fresh and unique.
If there's any complaint I'd lodge against the Tearaway soundtrack is that it is a little too comprehensive. Much of its length is padded with short ditties and a few tracks that could've been blended together as suites. I just hate the idea that some of the fabulous work done here could get lost among songs with less presence/importance.
Still, if my biggest criticism is that there's an awesome album buried inside a great album, then there's not much to worry about. And at $7.99, you're not going to find much better value. (Seriously, that's competitive compared to shorter soundtracks available on Amazon.) If you like a ton of variety in your soundtrack's moods and instrumentation, Tearaway is really for you. I wasn't wrong to list it among my favorites of 2013 even if it didn't come out until 2014.
You can find it exclusively on Sony's Playstation store.