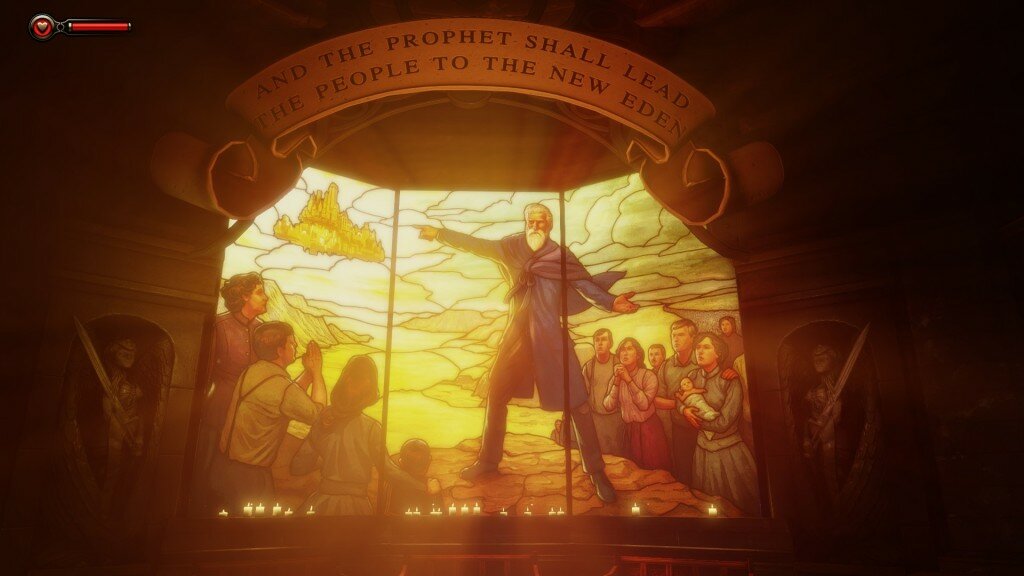 When BioShock came out in 2007, it was celebrated as an artistic tour de force in video games. Wielding exceptional graphics and water physics, exciting gameplay, and an intriguing story with a twist still discussed today, it really elevated our favorite entertainment medium.
The soundtrack to the game (available for free here), composed by Garry Schyman, was also great, but it was very brief and understated at only around 17 minutes long. Those lusting for something more substantial from this unique composer have something to sink their teeth into with BioShock Infinite, the latest offering from Irrational Games. This entry offers all the same key qualities that its predecessor did (we're leaving BioShock 2 out of canon here), but it also has the meaty soundtrack that video game music fans will appreciate.
Before delving into the particulars, it is important for me to tell you that the BioShock Infinite soundtrack does not, I repeat, does not feature the oft-talked about song covers the game is well-known for. If you are unaware of these, know that when you play the game, you'll be treated to a barbershop quartet singing "God Only Knows," a calliope playing "Girls Just Wanna Have Fun," and a blues version of "Tainted Love" among other strange appropriations. It is very clear that licensing fees played a part in preventing these from landing on what is basically the score to the game, but that does not mean the soundtrack is lacking on its own. I'd compare it to a delicious bowl of ice-cream without whipped cream or sprinkles on top – the dropped tracks would just make a great thing better.
In terms of composition, Schyman deserves praise for his ability to create atmosphere with an appropriate amount of restraint. Most of the narrative tracks are played solely by a string orchestra or quartet with very minimal additional instrumentation if any. The effect is that they are able to convey very clear, rich themes that do not get mired in over-produced layering, and the player is able to take in all aspects of important scenes without obvious attempts at musical emotional manipulation that one is used to, such as a sudden choral cry or percussion uptick.
Make no mistake, though, some of these are absolutely striking. "Elizabeth," named for the female protagonist of BioShock Infinite, is a masterful piece surprisingly driven by cello and viola. On top of being moving, these instruments lend significant strength to Elizabeth's character that would not otherwise be accomplished by relying on familiar tropes for female themes involving higher-pitched or more "delicate" instruments. The other song that really struck me was "AD," which backs one among the game's multiple excellent twists. Also played soulfully with strings, it conveys an intense emotional breakdown with quick rhythms. These two are easily my favorites, and I could listen to them repeatedly without issue.
The battle themes in the game employ larger bands in order to back the frenetic action on-screen as Booker, the male protagonist, shoots and zaps down foes. In contrast to the more suspenseful fights of the original BioShock, where enemies would jump out unexpectedly, battles in BioShock Infinite are more organized affairs, utilizing surprisingly large armies to thwart the heroes from finishing their mission. Appropriately, the five enumerated tracks, "The Battle for Columbia," are intense and wild, frightening in a wholly opposite way. String instrumentation typical of Hitchcock-era thrillers is paired with intimidating percussion arrangements, often including metallic noises akin to banging on pipes or steel drums. Though they lack memorable melodies, they are great at building an excited and tense mood. To round out this suite, "The Songbird," the theme for Elizabeth's jailor, fits with clanging and craziness abound.
Revealed in one of the earlier trailers, the game's soundtrack features the Christian hymn, "Will the Circle Be Unbroken?" by Ada Habershon. The final track on the soundtrack is the full version of this song sung masterfully by Courtnee Draper, the voice of Elizabeth, and accompanied by Troy Baker, the voice of Booker, on guitar. It is a really deep, engaging track that easily sets a solemn and contemplative tone. I must confess that it also gets stuck in your head so easily that it is hard to exorcise afterwards.
"Will the Circle Be Unbroken?" is also worked into a few other tracks on the album, including a moving choral version sung by Maureen Murphy. The melody is appropriated into two of the tracks composed by Schyman, "Welcome to Columbia" and "Lighter than Air." The former breaks it down into a very simplistic set of notes played by a piano, and the other features a full string arrangement to accompany the first steps into Columbia, the city in the sky. All of these versions stand apart from each other successfully, but the brief 41-second interlude from the main game should not have been included considering the album also includes the full version with the same instrumentation. It's like including a song and its Amazon sample for no apparent reason.
I heartily recommend picking up this soundtrack, though that would be a challenge. Unfortunately, the only way to get it right now is to purchase the Premium or Songbird edition of BioShock Infinite, which comes with download codes redeemable on the game's official website. Luckily, I do also recommend the game, too, so that might make your decision a little easier. If and when it does become commercially available, you should definitely buy it to hear some excellent string instrumentations and insane battle themes. Schyman really outdid himself in establishing a consistent setting through his musical compositions, and the incorporation of "Will the Circle Be Unbroken?" brings attention to a really well-written hymn. Hold onto hope!