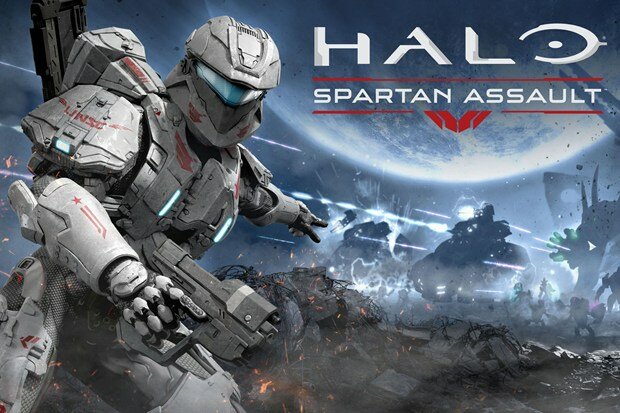 When you think of how well Halo games have solidified themselves in the minds of gamers over the years, a large reason is because of the music. Since the beginning, composers Martin O'Donnell and Michael Salvatori have crafted scores to the Halo franchise that are both instantly recognizable and celebrated amongst videogame music fans.
The original Halo trilogy was known for its signature style of piano motifs, rock guitars, ethereal choral arrangement, pounding percussion, and synth ambience, which created the atmosphere of something that was futuristic but also holy and ancient. So it's clear that when composer Tom Salta came aboard (Halo CE Anniversary, Tom Clancy's: HAWX 1 & 2, Tom Clancy's: Ghost Recon Advanced Warfighter 1 & 2), he did his homework with the soundtrack to Halo: Spartan Assault, because he checked off every one of those key elements, and he checked them off hard.
Tom Salta has done a magnificent job at recreating the classic Halo sound with his score to Spartan Assault, something that even the franchise's original composers got away from in later soundtracks. Everything that made the first trilogy's music so special can be found here, to the point where I had to check my iPod a few times just to make sure I wasn't listening to an older track I didn't entirely recognize.
A perfect example of this is the soundtrack's opener, Legacy:
It's a quick track that clocks in at barely over a minute but is the perfect introduction to a soundtrack that is very much a Halo-sounding score. It sounds very similar to Halo 2's Prologue, which you hear upon starting up the game. That ethereal choral arrangement I mentioned earlier is in full effect here in Legacy, and finishes off with a simple piano motif that is beautiful and pleasant to listen to.
Wolverines Return
Wolverines Return has a strong start with a heavy percussion and rock guitar combo, and it doesn't let up from there. It is also oddly reminiscent of Rock Anthem for Saving the World, but resists the urge to go all Van Halen at the end with a high-flying guitar solo. This track's gritty crunch sounds great, especially on a decent sound system, but loses points for being almost the exact same song as Wolverines Reborn, featured later on during the soundtrack. I've listened to both of them back-to-back several times and I still can't tell the difference between the two, other than some vaguely different drum rhythms in certain sections.
They're even the same length songs at 2:11 each, which is slightly befuddling, but hey, at least they're both good tracks. How completely unfortunate would it be to have to listen to two almost identical, boring, or poorly written songs on the same soundtrack?
Epic Evolution
I really enjoy Epic Evolution for two reasons: the gradual buildup is beautifully executed with a great climax, and because it also seems to be one of the few times that Salta lets his creativity and skill take this track in to an area that the original trilogy rarely went – emotion. He doesn't stick to the "Halo soundtrack blueprint" here, or follow in O'Donnell's footsteps. He does something that sounds familiar to Halo but with the added tension, anxiety, and tragicness that was often missing before. It's quite the eye-opener upon subsequent listenings, and something I hope to see future Halo soundtracks embrace.
Tom Salta's score for Halo: Spartan Assault is a fantastic ode to the original trilogy, and aims to please oldschool Halo fans who felt Neil Davidge's score to Halo 4 was too unfamiliar and radical. Salta set out to create a contemporary Halo soundtrack in the same vein as the originals, and he has done so, to great success.
Any fan of the Halo soundtracks, or this style of music in general, owes it to themselves to download this soundtrack. While many won't get to experience the game due to it's exclusive availability on Windows 8 and Windows Phone, everyone should check out the music, which is available to purchase from digitally iTunes and Amazon MP3.