Prepare thine ears fellow music fans, for Doom's soundtrack will be performed live on Thursday, December 1 during 2016's The Game Awards.
Composer Mick Gordon made the announcement today with a quick tweet containing only this image: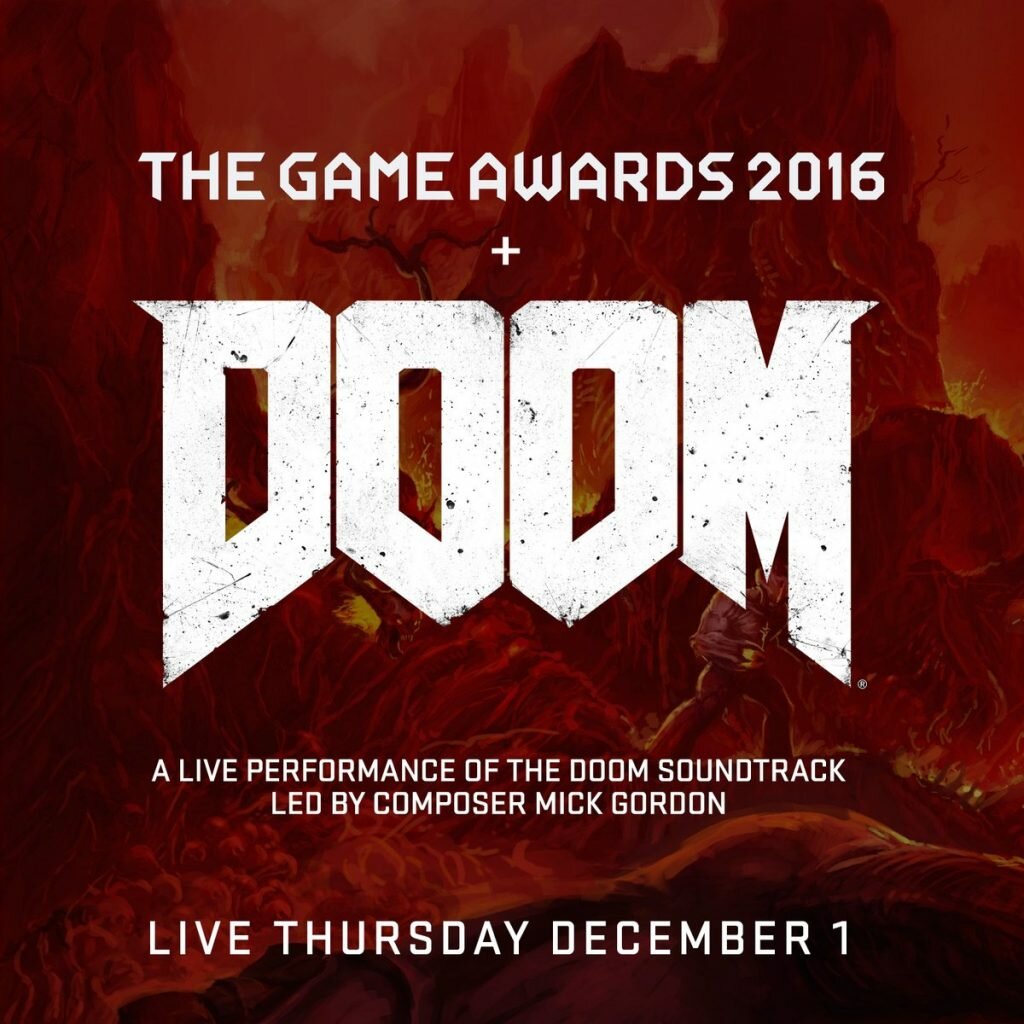 No other details regarding the setlist, other performers, or even the time of the performance are known yet. The event will be livestreamed, however, so fans wanting to tune in should be able to catch the performance.
Earlier in the month, Gordon asked his Twitter followers which songs they would like to see live, implying the possibility of future performances. The majority of fans responding asked for "BFG Division", "Rip & Tear", or just simply the whole album. There's only six days remaining until the event, so stayed tuned for any updates.
UPDATE:
Mick Gordon announced today on Twitter that artists Sascha Dikiciyan (aka Sonic Mayhem) and Matt Halpern (Periphery) would be joining him onstage for the live performance of Doom's soundtrack at The Game Awards. Judging from Halpern's Twitter posts, the show will be a Doom medley, and will definitely feature fan favorite track "BFG Division".
Halpern is the drummer for a progressive metal band called "Periphery" which features Misha Mansoor on guitar. Mansoor contributed to the "Sepiks Redux" track on Destiny: Rise of Iron's soundtrack as well as two tracks from the Halo 2: Anniversary soundtrack. Periphery put out an album in July of this year titled "Periphery III: Select Difficulty".
Dikiciyan has also had a busy year, having just wrapped up his latest soundtrack for Deus Ex: Mankind Divided, which is out this Friday, December 2, just a day after the Doom performance. He has a long list of video game soundtracks to his resume, which include the Mass Effect franchise, the Borderlands franchise, and Quake 2 and 3. With Quake also being a Bethesda franchise, don't be surprised if Dikiciyan sneaks in some of his Quake music to the Doom performance as well.