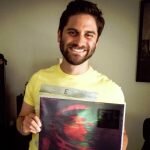 From an unknown, fledgling indie game composer to a mainstay on Bandcamp's soundtracks page, Ben Prunty's success often comes back to the game that started it all – FTL: Faster Than Light. It's been more than four years since the release of FTL, and Prunty has carved out his own style of ambient electronica within the indie games scene that his fans have come to know and love him for. Soothing yet stimulating, Prunty's music strikes a sweet spot for those wanting something nice to listen to while studying, working or reading, without being completely distracted by it.
With several game soundtracks and solo albums under his belt, Prunty now adds a documentary score to his library of releases with Cipher: the Score for Banking on Bitcoin. Featuring more than 90 minutes of music, it's by far his longest release to date, and demonstrates some of his best composition yet while still maintaining his signature sound of chill, ambient electronica.
Prunty was kind enough to take time from his busy schedule to answer a few questions for us about Cipher, and offers fans a unique, in-depth look at his thought process and some of the behind-the-scenes workings that went into Cipher's creation.

Game Music Fans: How did you come to work on this project? Were you looking to get out of your "comfort zone" and try something different?
Ben Prunty: I'm a little embarrassed to say that it was a simple matter of the producer contacting me giving me a decent offer. They were already using FTL as placeholder music on their movie, so they decided the simplest thing was to get me to write new music for them. I thought it would be fun to make a huge album of FTL-esque music, especially for my fans.
GMF: What was the most challenging aspect of writing the soundtrack for a documentary instead of a video game?
BP: Songs have to be a specific length, generally. Sometimes it was tough to carry a musical idea further than I thought it could carry itself.
GMF: What was your inspiration for Cipher?
BP: Like I said, they asked for music in the style of FTL. My personal direction was to make it sound more like a cool, curated collection of electronic music, rather than a cohesive work like I do with my other soundtracks. That made it kind of freeing when I wanted to get more experimental.
GMF: Which track(s) from Cipher are you most proud of and why?
BP: My favorite tracks are probably Cipher and Regulation. Cipher has a great melody and I think it's really catchy. Regulation has a really great, weird vibe and I love making more unsettling, odd pieces. I'm really proud when I can make weird yet listenable music.
GMF: Where did the name "Cipher" come from?
BP: I could have simply called this Banking on Bitcoin Soundtrack, like I do with all my other soundtracks. But I ended up with 90 minutes of smooth, thoughtful electronica, which is exactly what my fans want from me. The film was delayed till January 2017, exactly a year after I completed the music. I wanted to release the music early, since selling albums directly to my fans is a large part of my income. Since I kind of wrote it as though it were its own album already, I wanted to give it a separate identity. So it needed its own name. After reading a lot about cryptography (which is a large part of what bitcoin itself is built around) I thought the name Cipher fit well and was snappy enough to work as an album name.
GMF: What lead you to working with Sylvia Ritter for the cover art, and what direction did you give her?
BP: Sylvia found me on twitter when I was looking for an artist for one of my previous albums, Fragments. She did an amazing job on that one, and was super professional about it. Since the album itself is steeped in electronic themes, I thought her precise, geometric style was perfect. Specifically, I asked her to imagine a piece of art that revealed new details every time the viewer looked at it. She REALLY delivered on that one. Take some time and just look closely at all the details. You'll find also sorts of cool little robots and machines hiding everywhere.
GMF: And bonus question: in a fantasy world where you could work on the music for any existing game franchise/series, which would you most like to work on, and why?
BP:This might be disappointing but I really only like working on original stuff. The thought of adapting an already established style from a series is fairly unappealing to me. Maybe if I frame it as a 'spiritual successor' idea I might find it more appealing. Longtime fans know that I'd love to wok on Silent Hill-style horror, and I even wrote the soundtrack for Dead Secret, a great game that definitely doesn't get enough love. But I want MORE. I wanted it so bad that when I didn't have any horror game to work on, I went ahead made a horror concept album called Dark Window.